Leading Metaphilosophical Values of the Lvov-Warsaw School
Słowa kluczowe:
Lvov-Warsaw School, scientific philosophy, analytic philosophy, Kazimierz Twardowski, Zygmunt Zawirski, Izydora Dąmbska
Abstrakt
The article explores the concept of scientific philosophy as understood by members of the Lvov-Warsaw School. The author argues that according to Twardowski and his students, philosophy should be done as an exact discipline which ought to be pursued in critical and collaborative spirit. Selected views on scientific philosophy are analyzed, including ideas of Ajdukiewicz, Zawirski, and Dąmbska. It is claimed that though the conception of scientific philosophy is beset with crucial and fundamental ambiguities, it was far more important for the Lvov-Warsaw School than the idea of analytic philosophy.
Bibliografia
Ajdukiewicz K. (1937/1985), "Kierunki i prądy filozofii współczesnej" [Movements and Currents of Contemporary Philosophy] [in:] Język i poznanie, t. I: Wybór pism z lat 1920-1939 [Language and Cognition, vol. 1: A Selection of Papers from 1920-1939], Warszawa: Państwowe Wydawnictwo Naukowe, 249-263.
Dąmbska I. (1977), "Czym jest filozofia, którą uprawiam?" [What Kind of Philosophy Do I Practice?], Znak 29(11-12): 1335-1337.
Friedman M. (2004), "Philosophy as Dynamic Reason: The Idea of Scientific Philosophy" [in:] What Philosophy Is: Contemporary Philosophy in Action, H. Carel, D. Gamez (eds.), London: Continuum, 73-96.
Haack S. (2021), "Scientistic Philosophy, No; Scientific Philosophy, Yes," The Quarterly Journal of Philosophical Investigations 15(36): 4-36. https://doi.org/10.22034/jpiut.2021.13834
Łukasiewicz J. (1928/1996), "O metodę w filozofji" [Concerning the Method in Philosophy], Przegląd Filozoficzny 31(1-2): 3-5; reprinted in 1996: Filozofia Nauki 4(3) [15]: 158-159.
McGinn C. (2015), "The Science of Philosophy," Metaphilosophy 46(1), 84-103. https://doi.org/10.1111/meta.12116
Szubka T. (2022), "Varieties of Scientific Philosophy: From Modest Proposals to Implausible Conceptions" [in:] At the Sources of the Twentieth-Century Analytical Movement: Kazimierz Twardowski and His Position in European Philosophy, A. Brożek, J. Jadacki (eds.), Leiden: Brill, 3-22. https://doi.org/10.1163/9789004511934_002
van der Schaar M. (2016), Kazimierz Twardowski: A Grammar for Philosophy, Leiden: Brill Rodopi. https://doi.org/10.1163/9789004304031
Zawirski Z. (1947), O współczesnych kierunkach filozofii [On Contemporary Philosophical Movements], Kraków: Wiedza – Zawód — Kultura.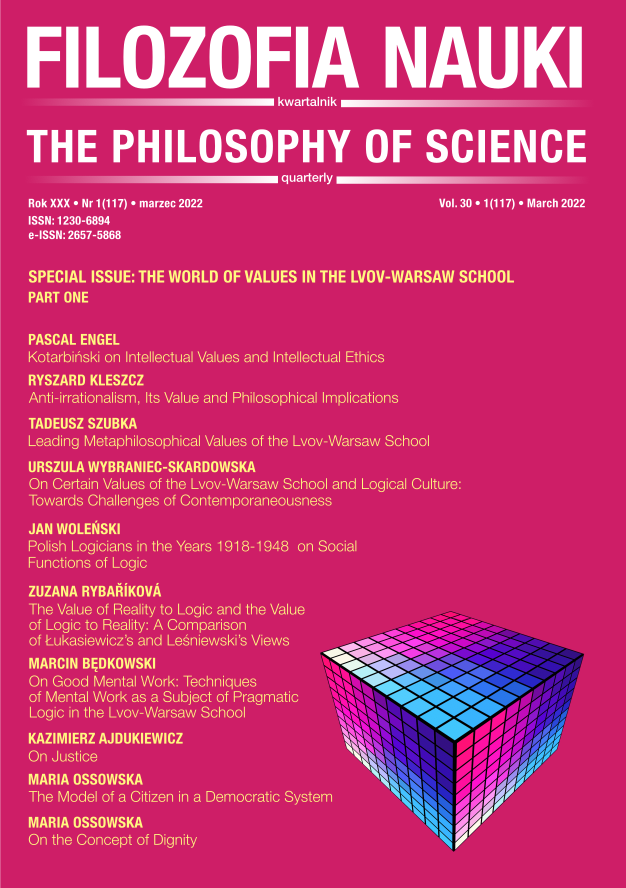 Jak cytować
Szubka, T. (2022). Leading Metaphilosophical Values of the Lvov-Warsaw School. Filozofia Nauki, 30(1), 47-52. https://doi.org/10.14394/filnau.2022.0004