Virtue Epistemology as a Theory of Knowledge-How: Application of Individual Epistemology to the Debate over the Extended Subject of Knowledge
Barbara Trybulec

Instytut Filozofii, Uniwersytet Marii Curie-Skłodowskiej w Lublinie
Słowa kluczowe:
epistemology, knowledge-how, value of knowledge, epistemic achievement, wide cognitive system
Abstrakt
Knowledge is often regarded as the main concern of epistemology. It has gained the status of the most valuable epistemic aim. However, it is not easily explained why this should be the case. In this paper, I evaluate an answer to this question offered by virtue epistemology and show that the latest analyses imply that virtue epistemology cannot explain the special value of knowledge-that. The definitions of knowledge proposed by virtue epistemologists either apply only to knowledge-how, or cannot address the value problem. The aim of this paper is to show how virtue epistemology can account for the high epistemic status of knowledge-how of both individual and extended cognitive systems. I argue that, among extended cognitive systems, only those composed of two or more people can be regarded as subjects of knowledge-how. As far as systems that consist of a single person and her cognitive enhancement are concerned, virtue epistemology is a reductive theory of knowledge-how, as it attributes knowledge-how only to that person.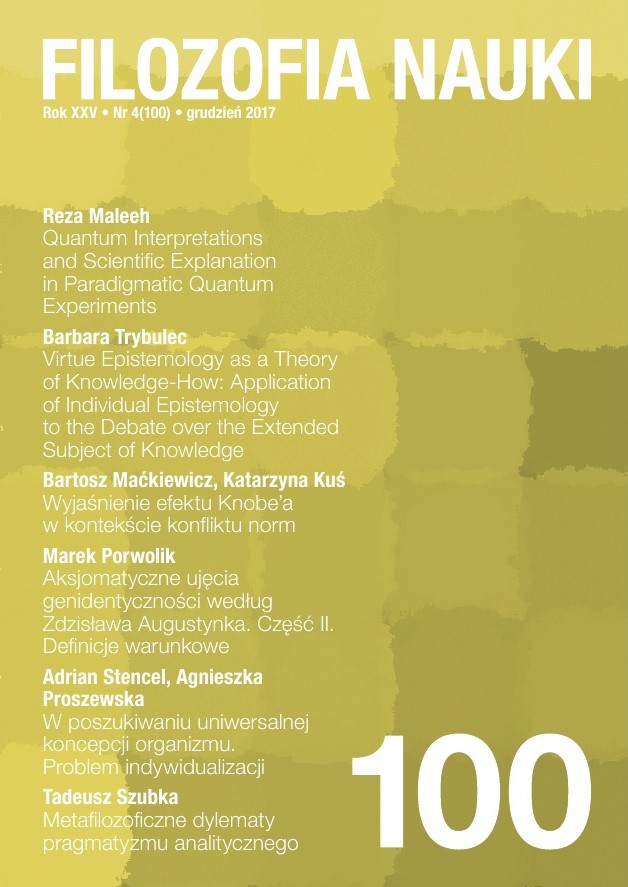 Jak cytować
Trybulec, B. (2017). Virtue Epistemology as a Theory of Knowledge-How: Application of Individual Epistemology to the Debate over the Extended Subject of Knowledge. Filozofia Nauki, 25(4), 31-56.