Quantum Interpretations and Scientific Explanation in Paradigmatic Quantum Experiments
Reza Maleeh

School of Historical and Philosophical Inquiry, University of Queensland, Brisbane St Lucia
Słowa kluczowe:
scientific explanation, quantum interpretation, the double-slit experiment, DN model of explanation, kairetic account of explanation
Abstrakt
In this paper, I discuss two different formalisms of quantum mechanics, i.e. the orthodox and the de Broglie–Bohm formalisms, as explanations of the interference pattern observed in the doubleslit experiment. I evaluate the explanations provided by these two formalisms on the basis of Hempel's DN model of scientific explanation, showing that both formalisms can sufficiently explain the phenomenon. However, once the interpretations associated with the two formalisms come into play, the sufficiency of the DN model's evaluation of the explanations becomes questionable. Whereas the Copenhagen interpretation, associated with the orthodox quantum formalism, would evaluate the DN model as sufficient, Bohm's interpretation, associated with the de Broglie–Bohm formalism, would not. Bohm's interpretation would require descriptions containing relevant metaphysical relations to be included in the explanans. The DN model does not contain such a requirement. Then, Strevens's kairetic account of explanation will be introduced as an alternative model of scientific explanation. The kairetic account allows for descriptions of relevant metaphysical relations to be included in the explanans. I argue that the proponents of both interpretations will accept the evaluation provided by Strevens's kairetic account as sufficient. This highlights the role of quantum interpretations in modeling scientific explanation of quantum phenomena in two ways: (1) in determining the relevant explanans of the model of explanation, and (2) in evaluating models of explanation by virtue of evaluating the relevancy of their explanans or by evaluating whether the requirements of a model are fulfilled in the context of an interpretation.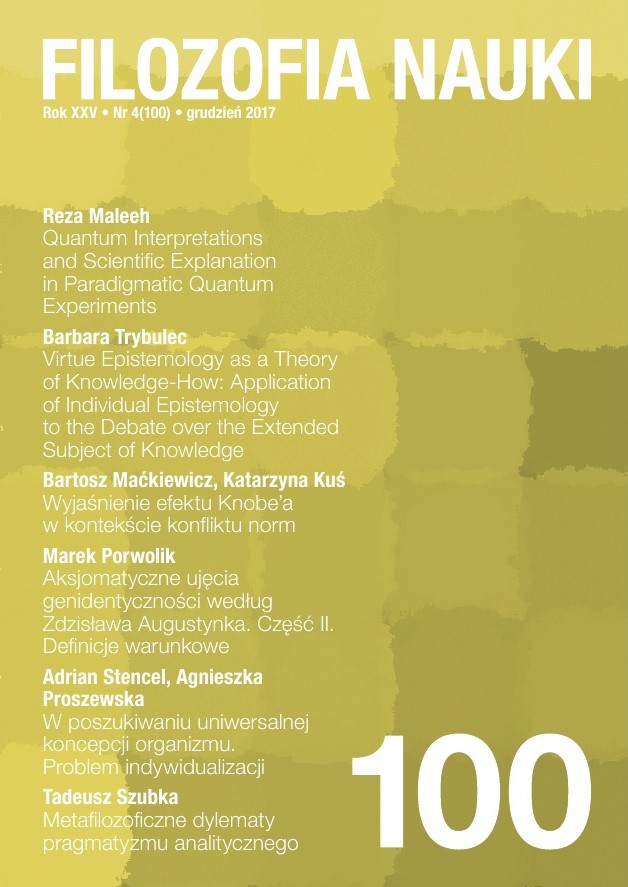 Jak cytować
Maleeh, R. (2017). Quantum Interpretations and Scientific Explanation in Paradigmatic Quantum Experiments. Filozofia Nauki, 25(4), 5-30.