Anti-irrationalism, Its Value and Philosophical Implications
Słowa kluczowe:
anti-irrationalism, rational beliefs, metaphilosophy, Kazimierz Ajdukiewicz, Izydora Dąmbska
Abstrakt
The article examines the concept of anti-irrationalism coined by the members of the Lvov-Warsaw School. The term "anti-irrationalism" comes from Ajdukiewicz, who used it to define the specificity of the School as a whole. For Ajdukiewicz, anti-irrationalism, which values cognition with intersubjective qualities, is contrasted with irrationalism. The article discusses Twardowski's tripartite division of beliefs into rational, "irrational," and "non-rational." Against this background, the article explores Dąmbska's view on irrationalism, which is divided by her into several subcategories.
Finally, the author considers the question of anti-irrationalism as a metaphilosophical standpoint in the context of the question of a worldview.
Bibliografia
Ajdukiewicz K. (1934), "Logistyczny antyirracjonalizm w Polsce" [Logistic Anti-irrationalism in Poland], Przegląd Filozoficzny 37, 399-408.
Ajdukiewicz K. (1935), "Die logistische Antirrationalismus in Polen," Erkenntnis 5, 151-161.
Ajdukiewicz K. (1949/2004), Zagadnienia i kierunki filozofii [Problems and Theories of Philosophy, see Ajdukiewicz 1973], Kęty–Warszawa: Wydawnictwo Antyk.
Ajdukiewicz K. (1973), Problems and Theories of Philosophy, Cambridge: Cambridge University Press.
Bocheński J. M. (1982), Wege zum philosophischen Denken. Einführung in die Grundbegriffe, Freiburg im Breisgau: Herder.
Dąmbska I. (1938), "Irracjonalizm a poznanie naukowe" [Irrationalism and Scientific Cognition], Kwartalnik Filozoficzny 14, 83-118, 185-212.
Dąmbska I. (2016), Knowledge, Language and Silence: Selected Papers, Leiden–Boston: Brill–Rodopi.
Kleszcz R. (2013), Metoda i wartości. Metafilozofia Kazimierza Twardowskiego [Method and Values: Metaphilosophy of Kazimierz Twardowski], Warszawa: Wydawnictwo Naukowe Semper.
Nozick R. (1995), The Nature of Rationality, Princeton–New Jersey: Princeton University Press.
Tatarkiewicz W. (1971), Droga do filozofii i inne rozprawy filozoficzne [Road to Philosophy and Other Philosophical Writings], Warszawa: Państwowe Wydawnictwo Naukowe.
Twardowski K. (1929/1965), "Przemówienie z okazji 25-lecia PTF" [Address at the 25th Anniversary Session of the Polish Philosophical Society, Lwów 1929] [in:] Wybrane pisma filozoficzne [Selected Philosophical Writings], Warszawa: Państwowe Wydawnictwo Naukowe, 380-381.
Twardowski K. (1992), "Autobiografia filozoficzna" [Philosophical Autobiography], Przegląd Filozoficzny — Nowa Seria 1(1): 19-33.
Twardowski K. (1999), On Action, Products and Other Topics in Philosophy, Amsterdam—Atlanta: Rodopi.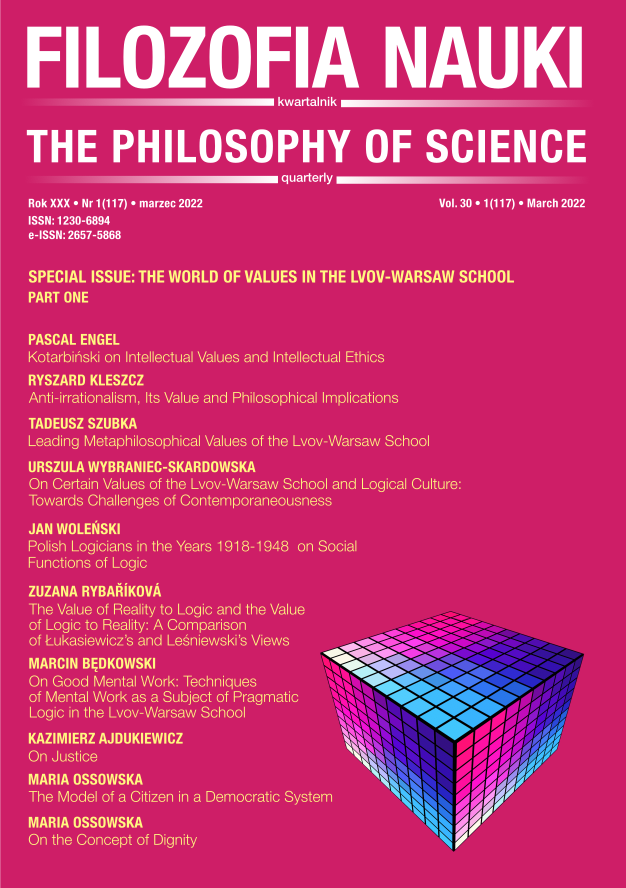 Pobrania
Jak cytować
Kleszcz, R. (2022). Anti-irrationalism, Its Value and Philosophical Implications. Filozofia Nauki, 30(1), 39–46. https://doi.org/10.14394/filnau.2022.0003