Philosophy of Science in Russia: The St. Petersburg Philosophical Society (1897-1923)
Słowa kluczowe:
filozofia nauki, towarzystwo naukowe, nauka rosyjska, Towarzystwo Filozoficzne w Sankt Petersburgu, filozofia rosyjska
Abstrakt
This article is devoted to the philosophy of science in Russia from the end of the 19 th century to the beginning of the 1920s. In that period, the Philosophical Society was one of the philosophy centers in the country. An important characteristic of the society was its interdisciplinarity. This affected both the list of its members and the topics of the papers presented at its meetings. From the very beginning, the society consisted of representatives of various fields of science, including botanists, physicists, mathematicians, lawyers, psychologists, historians, and philosophers. This enabled a comprehensive review of individual philosophical problems and ideas. With the principle of interdisciplinarity at its root, the Philosophical Society became a platform for fruitful debates over important problems from various disciplines, including philosophy of science. Some of them are summarized in this article.
Bibliografia
Askol'dov S. A. (1922), "Analogiya kak osnovnoy metod poznaniya" (Analogy as the Main Method of Knowledge), Mysl' 1, 33-54.
Bekhterev V. M. (1917), "Strogo ob'yektivnyy metod v izuchenii nervno-psikhicheskoy deyatel'nosti i yego rol' v obosnovanii refleksologii cheloveka" (Strictly Objective Method in the Study of Neuropsychic Activity and Its Role in Substantiating Human Reflexology), Vestnik psikhologii, kriminal'noy antropologii i pedologii 13(3-5), 79-81.
Boldyrev N. V. (1922), "Bytiye i znaniye, sozertsaniye i razum: ontologicheskiye motivy krititsizma" (Being and Cognition, Contemplation and Reason: Ontological Motives of Criticism), Mysl' 1, 13-32.
Dahm H. (1975), Vladimir Solovyev and Max Scheler: Attempt at a Comparative Interpretation, Dordrecht: Reidel.
Grot N. Y. A., Preobrazhensky V. P. (1899), "Ot Soveta Moskovskogo psikhologicheskogo obshchestva" (From the Council of the Moscow Psychological Society), Voprosy filosofii i psikhologii 46, V.
Ivanovsky V. N. (1923), Metodologicheskoye vvedeniye v nauku i filosofiyu (Methodological Introduction to Science and Philosophy), Minsk: Beltrestpechat.
Khvol'son L. D. (1898), "O pozitivnoy filosofii i fizike" (About Positive Philosophy and Physics), Mir Bozhiy 5, 41-68.
Kotel'nikova O. M. (1922), "Ucheniye o neposredstvennom znanii v filosofii Fr. G. Yakobi" (The Doctrine of Direct Knowledge in the Philosophy of F. H. Jacobi), Mysl' 1, 89-116.
Lossky N. O. (1991), "Vospominaniya: zhizn' i filosofskiy put'" (Memories: Life and the Philosophical Path), Voprosy filosofii 11, 116-190.
Luk'yanov S. M. (1898), "Pozitivnaya biologiya O. Konta i filosofia" (Comte's Positive Biology and Philosophy), Voprosy filosofii i psikhologii 42, 216-253.
Miloradovich K. M. (1922), "Rol' filosofii v metafizike" (The Role of Philosophy in Metaphysics), Mysl' 2, 58-67.
Mueller L. (1951), Soloviev und der Protestantism, Freiburg: Verlag Herder.
Plato K. G. (1903), Polozheniye o chastnykh obshchestvakh, uchrezhdayemykh s razresheniya Ministerstv, Gubernatorov i Gradonachal'nikov (The State of Private Associations Established with the Permission of Ministries, Governors, and City Governors), Riga: E. Plates.
Poole R. A. (2008), "The Greatness of Vladimir Solov'ëv: A Review Essay," Canadian Slavonic Papers 50(1-2), 349-371.
Protokoly 1899 = "Protokoly obshchikh sobraniy Filosofskogo obshchestva, sostoyashchego pri Imperatorskom Sankt-Peterburgskom universitete, 1897 i 1898 gg." (The Minutes of the General Meetings of the Philosophical Society at the Imperial St. Petersburg University, 1897 and 1898), Voprosy filosofii i psikhologii 46 (1899), 87-111.
Protokoly 1900 = "Protokoly obshchikh sobraniy Sankt-Peterburgskogo filosofskogo obshchestva za 1899" (The Minutes of General Meetings of the St. Petersburg Philosophical Society for 1899), Voprosy filosofii i psikhologii 51 (1900), 74-123.
Radlov E. L. (1920), "Golosa iz nevidimykh stran" (Voices from Invisible Countries), Dela i dni: istoricheskiy zhurnal 1, 189-208.
Savich S. E. (1898), "O matematicheskikh trudakh O. Konta" (On the Mathematical Works by A. Comte), Zhurnal Ministerstva narodnogo prosveshcheniya 117, 152-169.
Shein L. J. (1966), "N. O. Lossky, 1870-1965: A Russian Philosopher," Russian Review 25(2), 214-216.
Shein L. J. (1970), "V. S. Solov'ev's Epistemology: A Re-examination," Canadian Slavic Studies 4(1), 1-16. https://doi.org/10.1163/221023970X00013
Soloviev V. S. (1996), The Crisis of Western Philosophy (Against the Positivists), trans. B. Jakim, Hudson, NY: Lindisfarne Press.
Soloviev V. S. (2005), The Justification of the Good: An Essay on Moral Philosophy, trans. B. Jakim, Grand Rapids, Mich.: William B. Eerdmans Publishing Company.
SPbF ARAN = Sankt-Peterburgskiy filial Arkhiva Rossiyskoy akademii nauk (St. Petersburg Branch of the Archive of the Russian Academy of Sciences).
SU RSFSR = Sobranie uzakonenii i resporiazhenii rabochego i krest'ianskogo provitel'stva.
RSFSR (Collection of Laws and Decrees of the Workers and Peasants Government of the Russian Soviet Federative Socialist Republic).
Tremblay F. (2016), "Nikolai Lossky's Reception and Criticism of Husserl," Husserl Studies 32(2), 149-163. https://doi.org/10.1007/s10743-015-9181-5
Tremblay F. (2017), "Nikolai Lossky and Henri Bergson," Studies in East European Thought 69(1), 3-16. https://doi.org/10.1007/s11212-017-9275-z
Tremblay F. (2019), "Ontological Axiology in Nikolai Lossky, Max Schemer, and Nicolai Hartmann" [in:] Nicolai Hartmanns Neue Ontologie und die Philosophische Anthropologie: Menschliches Leben in Natur und Geist, M. Kalckreuth, G. Schmeig, F. Hausen (eds.), Berlin—Boston: De Gruyter, 193-232. https://doi.org/10.1515/9783110615555-012
TsGA SPb = Tsentral'nyy gosudarstvennyy arkhiv Sankt-Peterburga (Central State Archives of St. Petersburg).
Ustav 1897 = Ustav Filosofskogo obshchestva pri Imperatorskom Sankt-Peterburgskom universitete (Charter of the Philosophical Society at the Imperial St. Petersburg University) (1897), St. Petersburg: Tipografiya M. M. Stasyulevicha.
Vanchugov V. V. (2014), "M. V. Bezobrazova — zhenshchina filosof, etik i istorik russkoy filosofii" (M. V. Bezobrazova: A Woman Philosopher, Ethicist, and Historian of Russian Philosophy), Vestnik Vyatskogo gosudarstvennogo gumanitarnogo universiteta 3, 6-15.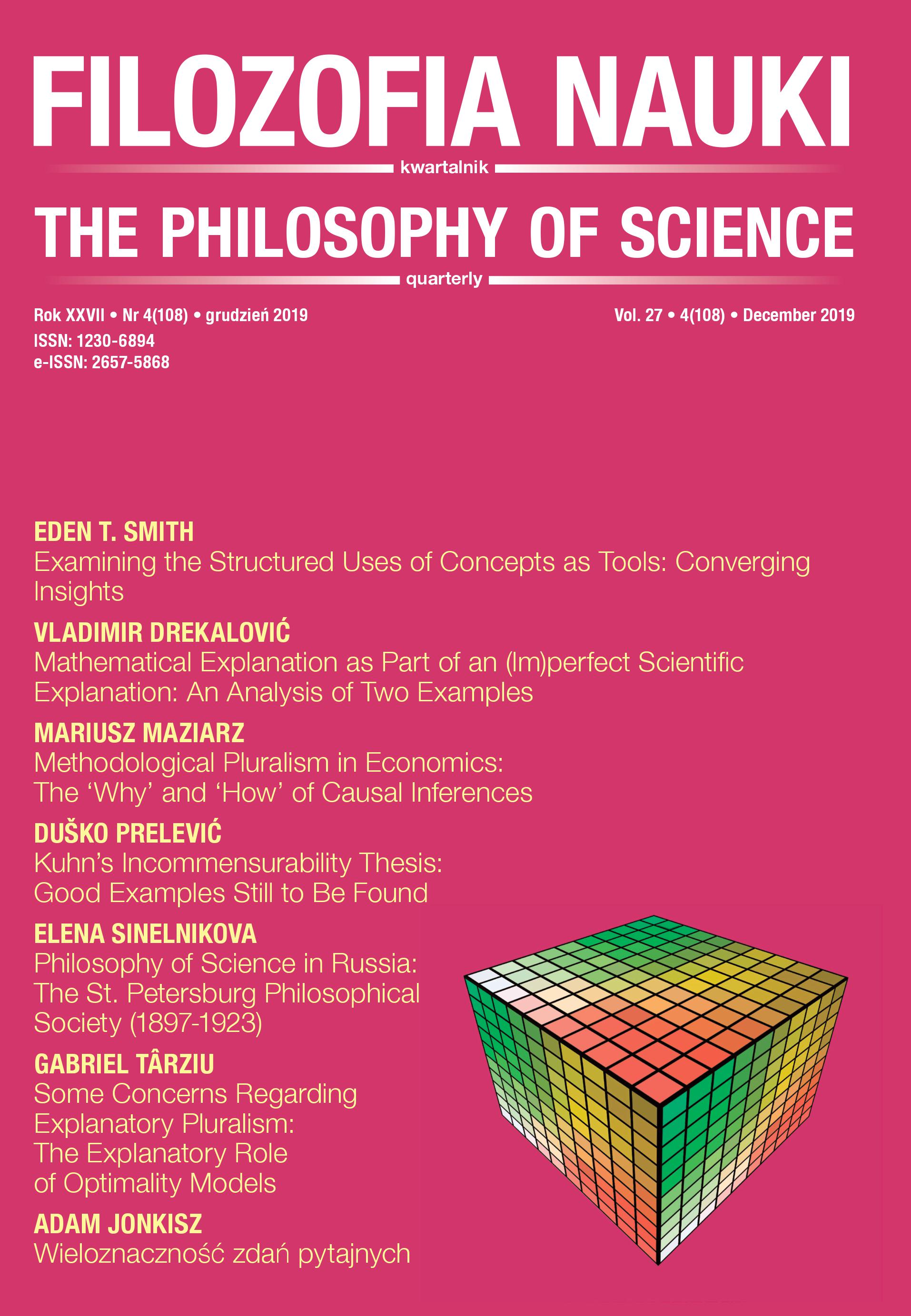 Jak cytować
Sinelnikova, E. (2019). Philosophy of Science in Russia: The St. Petersburg Philosophical Society (1897-1923). Filozofia Nauki, 27(4), 79-93. https://doi.org/10.14394/filnau.2019.0027