Baker's Theory of Material Constitution and Thinking Things into Existence
Słowa kluczowe:
material constitution, ontology, fictional objects, thinking into existence
Abstrakt
The paper provides a critical evaluation of Lynne Rudder Baker's nonmereological theory of material constitution in light of the "thinking into existence" objection, formulated by Theodore Sider and Dean W. Zimmerman. Although Baker responds to it, she focuses on its specific versions presented by Sider and Zimmerman and does not address the source of the problem. Baker maintains that beliefs, social practices, and conventions can bring a new intention-dependent
object into existence. However, as I argue, the thinking into existence objection shows that constituted objects, if there are any, are ontologically independent of beliefs, social practices, and conventions. In fact, Baker's theory doesn't give us any reason for believing that intention-dependent objects are any more real than fictional objects.
Bibliografia
Baker L. R. (1999), "Unity without Identity: A New Look at Material Constitution," Midwest Studies in Philosophy 23(1), 144-165. https://doi.org/10.1111/1475-4975.00008
Baker L. R. (2000), Persons and Bodies: A Constitution View, Cambridge Studies in Philosophy, Cambridge–New York: Cambridge University Press. https://doi.org/10.1017/CBO9781139173124
Baker L. R. (2002), "On Making Things Up: Constitution and Its Critics," Philosophical Topics 30(1), 31-52.
https://doi.org/10.5840/philtopics200230112
Baker L. R. (2007), The Metaphysics of Everyday Life: An Essay in Practical Realism, Cambridge Studies in Philosophy, Cambridge–New York: Cambridge University Press. https://doi.org/10.1017/CBO9780511487545
Baker L. R. (2013), Naturalism and the First-Person Perspective, Oxford–New York: Oxford University Press. https://doi.org/10.1093/acprof:oso/9780199914722.001.0001
Sider T. (2001), "Review of Lynne Rudder Baker, Persons and Bodies," The Journal of Philosophy 99, 45-48.
https://doi.org/10.2307/3655761 https://doi.org/10.5840/jphil20029912
Zimmerman D. W. (2002), "The Constitution of Persons by Bodies: A Critique of Lynne Rudder Baker's Theory of Material Constitution," Philosophical Topics 30(1), 295-338. https://doi.org/10.5840/philtopics200230111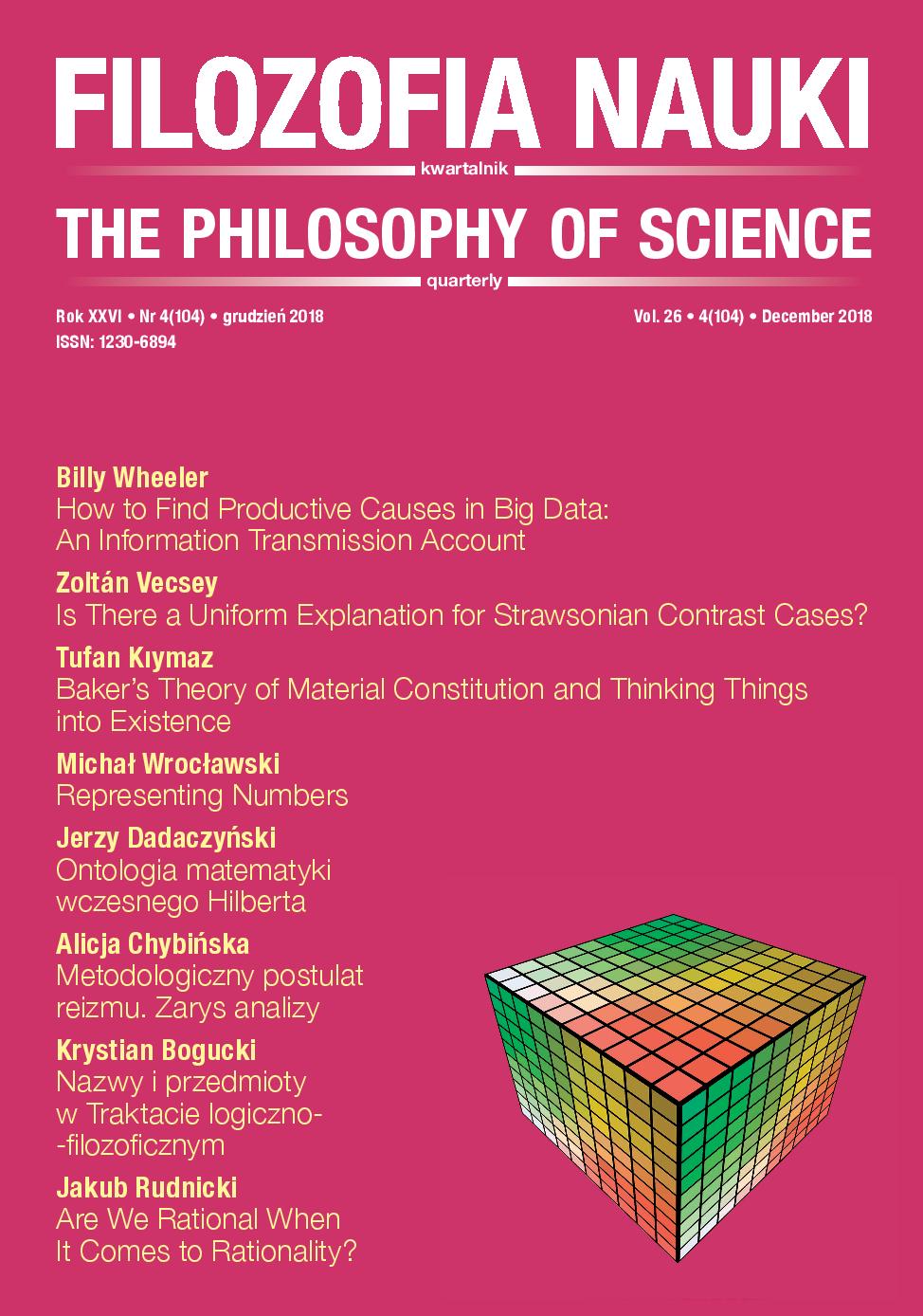 Pobrania
Jak cytować
Kıymaz, T. (2018). Baker's Theory of Material Constitution and Thinking Things into Existence. Filozofia Nauki, 26(4), 49–56. https://doi.org/10.14394/filnau.2018.0023